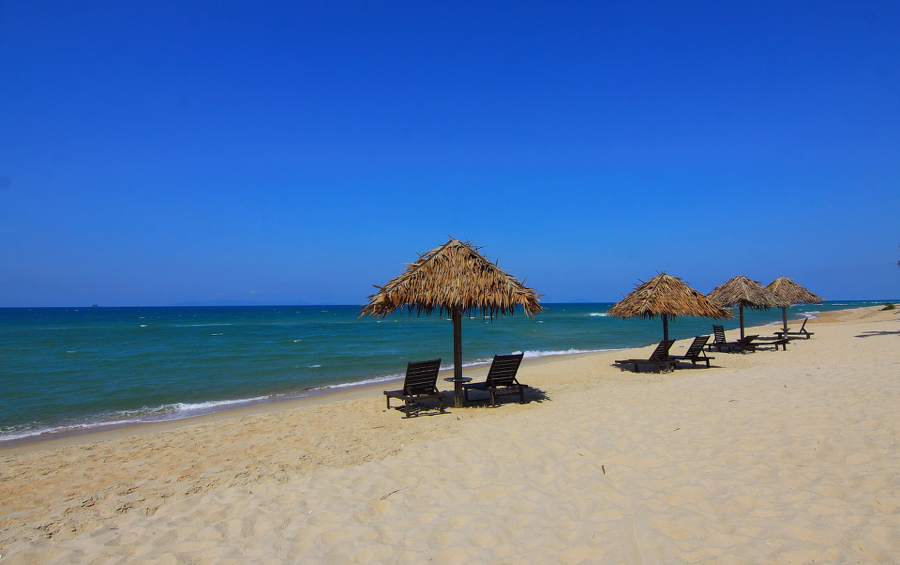 A great hotel can help make your Abacos getaway truly memorable. Sure, you might want to spend a day hiking through the pine barrens of southeast Abacos, on a quest to see the rare – and colourful – Abacos parrot, but this does not mean that you don't want to be pampered upon your return to your hotel. Or perhaps it is seclusion you seek?
These 10 Abacos hotels make vacationers regularly beam with pleasure, and they are in random order.
The Treasure Cay Beach, Marina and Golf Resort
The 3.5-mile-long crescent-shaped beach is the pièce de résistance at this resort that vibrates with authentic, laid-back Bahaman hospitality. The 18-hole golf course stands waiting for you on those mornings you want to rise early, as the tennis courts do, and should you have a hankering to swim with a school of blue tang, the resort will set up a diving excursion for you.
The Abaco Club at Winding Bay
Winding Bay is a place of striking visual beauty, you may spend a surprising amount of time attempting to invent a new word for the colour of the water that rolls on to the white sand beach, while waves splash spectacularly into the craggy shore on the opposite side of the resort. If you are into luxury, when outstanding amenities, accommodations and services meet ethereal nature, consider The Abaco Club.
Delphi Club
The Delphi Club is a self-described micro hotel and fishing lodge in south Abaco: Its guests experience a relaxed luxury; the food is exquisite, the wine cellar diverse and the forests that surround three sides of the lodge unharmed.  When you are not fishing for bonefish, kayaking or photographing wading birds, you might finally read that book – the one that has been sitting unopened on your bedside table for months – on the secluded beach.
The Lofty Fig
Aside from its winsome name, this resort opens its fun-loving arms to embrace families that include children, offering a small freshwater pool for frolicking, an BBQ for grilling simple dinners, and a big screen TV for when its time to snuggle up as a family and watch a movie at the end of a outdoorsy day.
Hope Town Harbour Lodge
The Hope Town Harbour Lodge invites you to let your hair down, to make your way into a hammock in the morning with no particular plan for surfacing, to paint in watercolours at the side of artist Malcolm Rae and to fall into bed a wee bit tipsy after a few glasses of top-drawer wine, or local beer. And should you want to lunch in your bathing suit, and why wouldn't you, this resort is with you.
Guana Seaside Village
Some of us prefer smallness, it is just in our natures to expand and relax in small resorts while we shrink inwardly as an expansive resort overwhelms us. If you are not into largeness in resorts, try the Guana Seaside Village, an inn with 8 rooms that sits on the edge of the sea. Oh, there is a courtyard bar, a fresh water pool and delicious food to complement the intimate feel of this special place.
Firefly Sunset Resort
Are you a romantic? Does the idea of sleeping in a bedroom with wooden walls that have been painted a pale yellow, in a bed that is smartly made up with the whitest of white linens, with the sounds of the Sea of Abaco seeping into your dreams, make you sublimely relaxed? If do, this resort, with its attention to visual details and the clever creation of private spaces is for you.
The Black Fly Lodge
Yes, this is a fishing lodge. But it is a fishing lodge where non-fishing human beings are heartily welcomed, and there is a wonderful reason to choose the Black Fly Lodge for at least part of your Abacos getaway – the food. Imagine gathering around a rustic table in the evening, at around 7:30, and there is a sense of anticipation in the air. You see, the chef at this lodge prepares local food – yes, fish – in ways that have guests booking their next stay as they walk out of the front door.
The Bahama Beach Club
Ah. You have arrived at The Bahama Beach Club.  And the beach looks like an impressionist painting that has somehow come to life – and there is an island beach bar serving Bahama Mamas, and you don't have to leave the sand to enjoy a fish taco that leaves you wanting more. The Bahama Beach Club is a resort that caters to the part of us that wants to leave reality far behind us for a little while.
Pelican Beach Villas
Are you a relaxed person? Do you seek a lack of fuss and formality in your accommodations? Well, Pelican Beach Villas sit on a peninsula on Great Abacos Island, and is conveniently close to lots of places that you might want to check out – like the Mermaid Snorkeling Reef or to your new favourite restaurant. Chill out, just as you like.