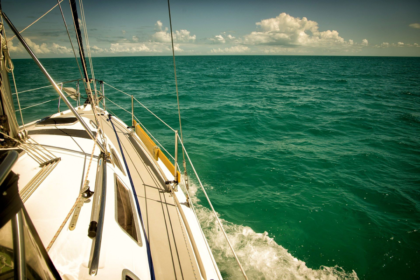 "Let me tell you about the very rich. They are different from you and me." F. Scott Fitzgerald was on to something when he wrote these words in 1925. While those of us with bank accounts of ordinary sizes are drawn to the Abaco for its sparkling white sand beaches, its chilled-out vibe, the far-out snorkeling and its bluer-than-blue waters, the uber rich and famous have their own reasons for hanging out in these glorious cays:
The seduction of seclusion
"I have a place that I go to in The Bahamas. It's the only place that guarantees total anonymity and freedom." Johnny Depp. To be famous, Johnny-Depp famous, is to be recogized wherever you go. It is to walk down a street in Happy Adventure, Newfoundland, with its population of 219 human beings, and be recognized.
But Johnny Depp purchased a small cay in Abaco that he can call his own; where he can treat into freedom. And Mr. Depp is not alone. The Abacos are not Nassau: They offer seclusion for the rich and famous, whether in the gated community of The Abacos Club where the uber-rich play or in stand-alone homes that serve as the ultimate private resorts.
And you don't have to own your cay to find seclusion
You can awake to the rhythmic sound of waves rolling to shore in a king-sized bed of divine comfort, and then have your personal chef bring you breakfast on a private balcony overlooking the blue sea and a secluded beach for 2,799 USD per night, in Winding Bay – and its all just 19 minutes from the Marsh Island airport.
There are places of exhilarating natural beauty on our planet that require you to rough it a little when it comes to accommodations: Not The Abacos, where it is not necessary to live in a style you don't want to get accustomed to: posh villas await those who desire them, and when the rich and famous are off playing in another part of the world, their homes are offered to, well, other rich and famous people.
And you can arrive by sea, on a yacht that dwarfs regular yachts
Should you possess a yacht that is the size of a small cay, perhaps with a winding staircase, a movie theatre and a bowling alley, you will find a welcoming berth in The Abacos. Why? Because these cays have been catering to tourists and boating residents for a long time, and being a collection of islands, the people of The Abacos expect you to arrive by boat, if you have one, and they don't mind if it is of an extraordinary size.
The vibe is chill in The Abacos
The Abacos is a place for laidback relaxation, for everyone. The rich and famous can stroll along a beach at sunset before heading for dinner in a local restaurant just like everyone else; there are no small crowds of the curious in their wake, snapping photos and calling for autographs – though it is fun to have your head turned now and then by a celebrity sighting.
But in the end, it is not possible to point to one feature of The Abacos that attract the rich and famous among us; it is a combination of alluring factors. The government is stable and friendly, there is a reliable communications grid, there is the possibility of privacy and the warmth of the local people – and there is a beauty in The Abacos that draws you in, that inhabits your dreams after you leave, eventually assuring your return.