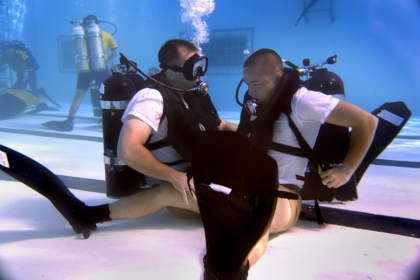 Scuba diving is like opening a door to a new world; when you are finally out of the pool and floating over a reef bursting with colour and a fantastically odd-looking fish nonchalantly swims within inches of your mask, a new kind of exhilaration will flow through your veins.
And The Abacos are a divine spot to take the plunge for the first time:
I want to dive so badly, but I want to be safe
The Abacos have highly professional dive masters with extensive experience in teaching beginners how to be safe while exploring the ocean with an oxygen tank strapped their backs. And they've got your back. To learn about what to expect during your certification, read the great guide put out by The Adventure Junkies.
I am so excited and a little bit terrified
Anticipating your first dive is truly exciting, and it should be; you are about to enter a new world. But it can also be a tad terrifying, with what-if-I-panic-when-I-see-a-huge-fish-swimming-toward-me thoughts punctuating your glee.
Many of the diving spots in The Abacos are 60 feet deep – or less. President George Washington's head, on Mount Rushmore, is 60 feet tall: It is a reasonable depth for your first dive. And if you choose The Pelican Cays National Park for your first dive, you will be in about 25 feet of water, with prehistoric-looking sea turtles and magnificent eagle rays.
I didn't really see anything cool
These are words that you will not be uttering after your first diving experience in The Abacos. Green Turtle Cay is home to a thrilling variety of fish like rainbow parrotfish, the common yellowtail snapper and chilled-out stingrays.
The islands proximity to the North Atlantic ocean has meant that the tides have formed lots of caves and holes in reefs that you can swim through, which will leave you in awe of their ethereal beauty.
That was so amazing. I want to go again. And again. And …
The likelihood that you will finish your first dive with a joyous desire to go again is extremely high, and The Abacos offer diverse diving for beginners so that you can go again. And again. From Walker's Cay, with its alluring caverns, to Green Turtle Cay with its incredible fish life, to the resting place of the American Civil War gunship, the San Jacinto.
But what if I am not certified?
You might be the kind of person who stands enthralled in the aquarium section of your local pet store, losing yourself in the ballet of tropical fish, but you aren't a great swimmer. (And this is an understatement.) Be prepared: You will have to swim, using any stroke, for 200 metres and also be able to tread water or float for 10 minutes. If you doubt your ability to these two things, head to your local pool for some individual swimming lessons before you land in The Abacos. Again, you can download a terrific scuba primer from The Adventure Junkies.
And on a more serious note
You obviously need a health insurance policy so that you can travel worry-free beyond the boundaries of your home country. If you are headed to The Abacos, or any place where you will be trekking, diving or motorcycling, read the fine print as some insurance companies will not cover any injuries that occur while you are engaging in what they have determined to be a "dangerous activity."
Links:
Dive Abaco
Brendals Dive Center
Dive Time
Froggies Out Island Adventures
Dive Guana
PADI