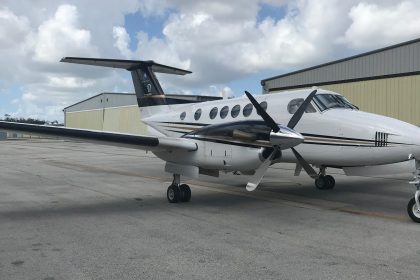 Instead of driving six hours to tailgate in a parking lot, you now have the option to start your own private tailgate party in the sky as you travel to your old football stomping grounds. Air Unlimited is revolutionizing the way that football fans can get to out-of-town games. It all starts at a private hangar in the Orlando Sanford International Airport.
Air Unlimited is taking your tailgate to the sky with its exclusive charter flights this football season. Skip the long drive and getting stuck in game day traffic; instead, kick back and enjoy the convenience of flying home right after the game.  You can even bring your own food and alcohol on the flight to enjoy the full experience of a luxury tailgate without worrying about who has to drive home afterwards. Much better than any taxi, bus or Uber, right?
The team at Air Unlimited are all football fans themselves, and they're dedicated to outdoing all your past game day experiences. The team will decorate the King Air 200 aircraft in your team colors before your flight, plus you can bring your own football memorabilia to get that full tailgate feel. It's truly a one-of-a-kind experience to chant your team's fight song at 39,000 feet in the air. Charter flights seat eight people, so you won't have to worry about sharing your day with anyone but your squad and the pilot.
If you are looking for the perfect excuse to get your alumni association together again, this is it. Charter flights leave from the Orlando Sanford International Airport and land in the airport closest to the game location. Air Unlimited will arrange a shuttle service that will take you to the stadium and back, eliminating the need to find another mode of transportation and giving you more time to enjoy the day. While you're at the game rooting for your team, the Air Unlimited pilot will wait with the aircraft for you to return. They'll be ready to take off on your schedule.
Charter flights with Air Unlimited can take you to any destination in the US, but football charter flights are only offered for certain games. The first football charter flight will fly fans to the upcoming Clemson University vs Florida State University game at Clemson Memorial Stadium. This is only a two-hour flight from the Orlando Sanford International Airport, so reserve your charter while you can!
The list below shows the upcoming games that charter flights will be offered for:
Florida State University vs Clemson University

When: Nov. 11, time is TBD
Where: Clemson Memorial Stadium in Clemson, SC
Price: $1,000.00 Per Person

University of Miami vs University of Notre Dame

When: Nov. 11, time is TBD
Where: Hard Rock Stadium in Miami, FL
Price: $798.00 Per Person

Clemson University vs University of South Carolina

When: November 25, time is TBD
Where: Williams-Brice Stadium in Columbia, SC
Price: $1000.00 Per Person

Alabama University vs. Auburn University

When: November 25, time is TBD
Where: Jordan-Hare Stadium in Auburn, AL
Price: $990.00 Per Person
Air Unlimited is also offering football charter flights for NFL games in Miami. Save time and avoid expensive hotels by flying with Air Unlimited to the following games:
Miami Dolphins vs Denver Broncos

When: Dec. 3 at 1pmEST
Where: Hard Rock Stadium in Miami, FL
Price: $798.00 Per Person

Miami Dolphins vs New England Patriots

When: Dec. 11 at 8:30pmEST
Where: Hard Rock Stadium in Miami, FL
Price: $798.00 Per Person

Miami Dolphins vs Buffalo Bills

When: Dec. 31 at 1pmEST
Where Hard Rock Stadium in Miami, FL
Price: $798.00 Per Person
Requires a minimum of six passenger bookings for this flight to be conducted. If the minimum is not sold, you will be given the option for a full refund or you may purchase the additional seats to meet the minimum requirement. Passengers will be informed five days prior to scheduled departure (and subsequently refunded) if the minimum seat purchase has not been met. Once requirements are met, tickets are non-refundable.
Call Air Unlimited at 407-585-4300 to see how you can reserve a football charter flight today so you can take your tailgate to new heights.