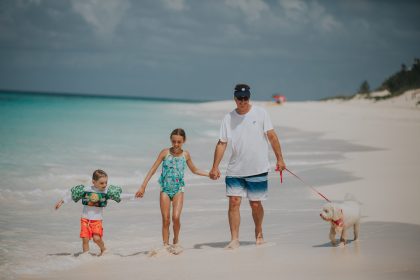 We've all seen it. Some of us have even been guilty of it. You sit down for a nice dinner with your family and then, like second nature, you pull out your phone and immerse yourself in the small digital world inside the palm of your hand. It doesn't take long before someone notices and calls you out for paying more attention to your phone than your family. Sometimes, we just need a break from the ordinary to remind us to disconnect from our busy lives. One way to do this is by taking a private flight to a place where phones are no match for nature's beauty. Luckily, Air Unlimited provides that experience with private flights to the relaxing and beautiful Abaco Islands.
The Abacos are part of the Bahamas Out-Islands, away from the hub of the heavily crowded tourist areas. They are home to white sandy beaches, exotic wildlife and fresh Bahamian seafood. Aside from the fact that you won't get cell service in most places on the islands, the atmosphere is breathtaking enough to keep everyone off their phones. Forget e-mail, Facebook and Instagram. There are plenty of tours and activities for all ages and levels of adventure to fill every minute with memorable experiences.
The flight to the Abacos is an adventure in itself. After arriving at Air Unlimited's private hangar located at the Orlando-Sanford International Airport, guests can relax for a few minutes in the exclusive pre-flight lounge. All flights to the Abacos are in our King Air 200s, which seat a maximum of nine people. There's a chance that your family could be the only guests aboard your specific flight. Even if others book the same flight, it is a completely different experience when compared to commercial flights, where the entire experience is a hassle from busy security lines to cramped airplanes. At Air Unlimited, every seat is first class. Each window offers an impeccable view of the ocean and islands as you approach the Abacos.
A private flight to the Abacos is the perfect way for families to reconnect this holiday season. Take a break from the cold weather making its way across the US, and enjoy an island getaway in the sunny Abacos. Don't know when to book? No problem. Air Unlimited offers gift certificates, so you can buy now and choose the dates later. Click here to book your private flight today.