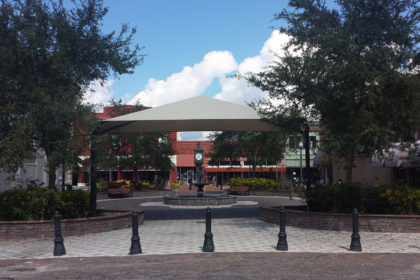 Historic downtown Sanford offers a variety of things to do for anyone passing through for a few hours or with a couple of days to explore. If you're coming from outside of the Central Florida area and have some time to kill before your flight with Air Unlimited, there are plenty of fun things to experience near the Orlando Sanford International Airport where our private hangar is located.
Explore
Sanford is home to beautiful state parks, including the Lower Wekiva River Preserve. The preserve is a system of blackwater streams and trails. This wildlife area provides a habitat for black bears, otters, alligators, wood storks and Sandhill cranes. Visitors can hike, paddle and camp on the preserve to get a taste of Sanford's wild flora and fauna. An especially interesting feature of the preserve is the equestrian campsite area that has horse stalls and corrals for those who want to bring their horse along on the trails.
Learn
Sanford Ghost Tours are a great way to hear the vast history about the area in a thrilling way. This one-hour walking tour is great for all ages, and takes you through stories of ghostly encounters around the downtown Sanford area leading up to the last stop at a haunted building. Tours are just $15 and are offered at 8 and 9 p.m. on Thursdays and Fridays.
Eat
A great way to visit multiple restaurants in a short period of time is by taking a tour with Sanford Food Tours. They work with dozens of restaurants and shops in downtown Sanford and allow guests to choose from two different tours or create their own. The Brews & Bites Tour includes stops at Deviant Wolfe Brewing, Sanford Brewing Co., Wops Hops Brewing Co., Inner Compass Brewing Co., and Tuffy's Bottle Shop. Food and drink pairings are accompanied by the amazing sights and rich history of Sanford's city center. The Celery City Tour stops at Hollerbach's Willow Tree Cafe, The District, Busters Bistro, and Sanford Brewing Company. Each walking tour is about four hours and includes insight into local history and culture along the way.
Drink
Have you ever had a drink while riding on a 15-seat bicycle? At Limo Cycle Tours, you can do just that! It's not a traditional bicycle, but rather a mobile bike bar that uses pedals to propel you forward with a tour guide steering and leading the way. The faster you pedal, the faster you get to the next destination. Guests are allowed to bring beer and wine on their tour, and each tour stops two to three times to visit shops, restaurants, and bars in the downtown Sanford area. This two-hour tour is bound to be a group favorite.
Sanford has so much to offer and is located just around the corner from Air Unlimited's hangar in the Orlando Sanford International Airport. Call (407) 585-4300 to book your flight with Air Unlimited and ask our knowledgeable staff about their favorite things to do in Sanford.