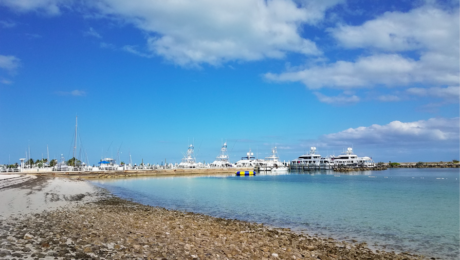 With over 100,000 miles of shimmering turquoise waters surrounding the Bahamas' Out-Islands, it is no surprise that the Abacos are considered the boating capital of the Bahamas. When you vacation in Marsh Harbour, you become immersed in a world of boats made for leisure, sporting, and fishing, as well as super yachts crafted for a day of luxury.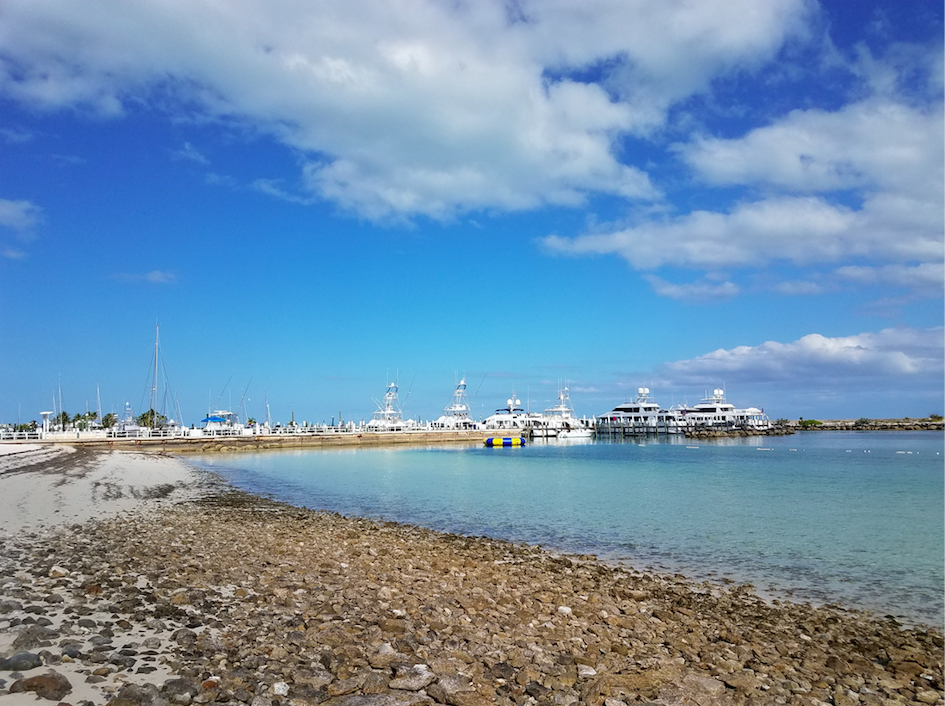 Marsh Harbour is the ultimate boating destination for those looking for convenience and comfort. The Abaco Beach Resort and Boat Harbour Marina is the largest marina in the Bahamas with 198 boat slips and dozens of amenities. This marina offers guests 24-hour security, Internet, TV, full detailing, cleaning, electricity and fueling services. Other amenities are included for your enjoyment, such as pools with a swim-up bar, free showers, token laundry, nightly entertainment, and more. Also, guests who prefer to spend the day at sea and the night on land can still stay close to the action at the Abaco Beach Resort, never missing a sunrise sail.
The Abaco Beach Resort and Marina also offers competitive pricing with rates as low as $3.10 per foot per day for a short-term slip rental and $1.50 per foot per day for a long-term slip rental. Thinking of planning a private rendezvous? Group rates are also offered, and marina experts will gladly help plan a custom event that will leave a lasting impression on your guests. The culinary team can even assist in planning an island-inspired menu for your guests when you return from a day on the water.
For less experienced boaters or travelers without their own vessel, boats can be rented daily at the marina, or through nearby rental companies such as Cj's Abaco Dorado Boat Rentals, Blue Wave Boat Rentals or Dream Yacht Charters. With so many rentals to choose from, you are sure to find the right boat to fit your needs.
Next time you're looking to set sail, consider a vacation in Marsh Harbour. Forget the hassle and schedule your boat ahead of time or rent one when you get there. When you fly with Air Unlimited, you can be out of the sky and on the docks faster than you can raise the anchor! Book online at www.flyairunlimited.com.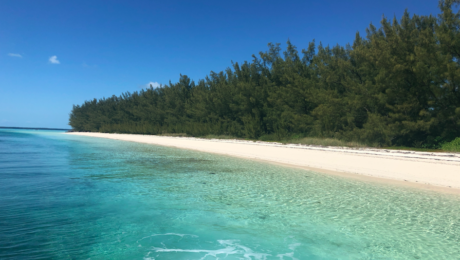 Your wedding day is one of the most special days of your life, so why not make it even more memorable by planning an Abaco Island getaway to coincide with your big day? The Abacos is a great place to travel, whether it's for a bachelor/bachelorette party, destination wedding or honeymoon celebration.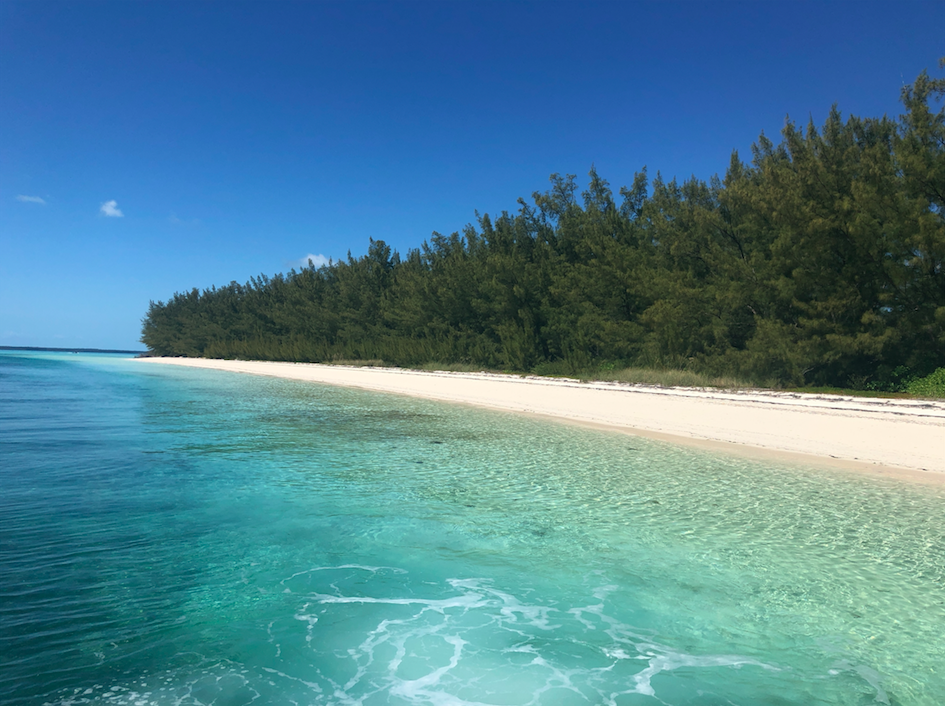 Located in the Bahamas, the turquoise waters and powdery sand of the Abaco Islands are a huge draw for many wedding festivities. It's the perfect place to soak up some sun and get that wedding glow with your spouse, friends and loved ones.
Beyond the sea and sand, there's plenty to do in the Abacos. You can sign up for some relaxation by booking a spa session at Island Spirit Day Spa in Treasure Cay or The Abaco Club's exclusive spa. If you're staying in Hope Town, you can visit the iconic Hope Town Lighthouse or do some shopping in the village. You might even find the perfect souvenir to remember your trip. If you and your group want a day on the water, stop by Blue Wave Boat Rentals in Marsh Harbour and rent a boat for the day. Customers have full access to the marina facilities, including their grilling stations, so feel free to barbeque some burgers or fresh fish once you return to land. With so many exciting activities available in the Abacos, your wedding guests will want to extend their stay beyond your big day!
If you're planning a destination wedding, the Abaco Islands are the perfect mix of quaint and tropical. There are fewer crowds than some of the other islands in the Caribbean, meaning that you and your loved ones will have a more private experience. From tying the knot surrounded by turquoise waters on the beach, in a quaint inn, luxurious resort or traditional chapel – every couple is sure to find the best venue to say "I do". You'll capture some amazing wedding photos with breathtaking island scenery.
Whether you're traveling with your entire "I Do Crew," or alone with your new spouse, your Abaco Island getaway starts the moment you arrive at Air Unlimited. We believe that getting there is half the fun, so sit back, drink some champagne and let us do the flying. Book now at www.flyairunlimited.com.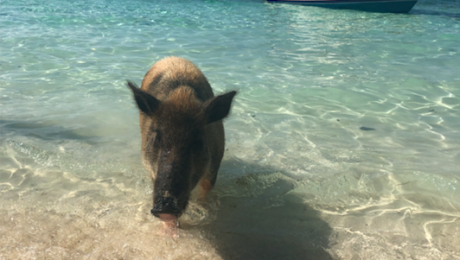 In addition to the world-class beaches, resorts and spas in the Caribbean, there are many ways to experience the natural beauty and wildlife of the islands. For your next vacation to the Abacos, consider taking a look at the wilder side of the Bahamas with our top recommendations for nature lovers.
Fowl Cays National Park, a short ferry ride from Marsh Harbour, is an underwater enthusiast's paradise with more than 1,300 acres of biologically diverse coral reefs and seagrass beds. Be sure to bring your snorkel or diving equipment, because you won't want to miss the chance to see some of the Bahamas most beautiful fish up close, such as Barracudas, Lionfish, Clownfish, Nassau Groupers, Spiny Lobsters and Blue Tangs.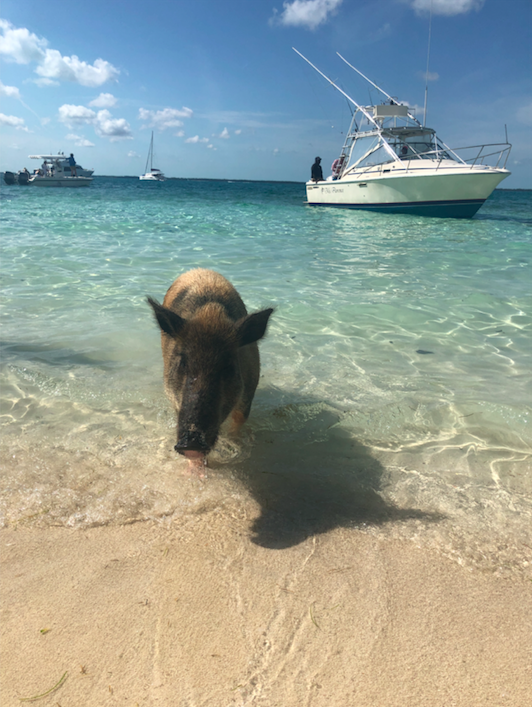 Looking for some less traditional aquatic wildlife? Look no further than No Name Cay, where wild pigs will actually swim up to meet your boat as you dock. No one is quite sure how these pigs came to be on this island, but they sure make for an interesting addition to the Abaco wildlife. When visiting No Name Cay, consider bringing some extra fresh water or fruit with you to share with the pigs, as they always welcome tasty treats from visitors. Of course, it's good to keep in mind that there is always a need to be cautious around any wild animal (no matter how adorable and friendly they seem)!
The Abaco National Park, located about an hour's drive away from Marsh Harbour, is the perfect day trip for bird watchers looking to catch a glimpse of the endangered Bahama Parrot. When visiting the park, you'll have the chance to see these colorful birds, which feature white heads, green bodies, and vibrant, cobalt blue wings. About 5,000 acres of the park is dedicated as a parrot nesting area and habitat, offering these birds a rich source of food and safe haven for breeding season. In fact, the ground's limestone cavities are perfect for these birds to nest in.
Another bird-watcher's paradise can be found outside Treasure Cay at Black Sound Cay National Reserve. Here, visitors will find a small mangrove reserve, which is home to waterfowl, such as tiny Sanderlings and Piping Plovers, as well as migratory birds such as Painted Buntings, Indigo Buntings, American Redstarts, Black and White Warblers, and Magnolia Warblers.
With so many wildlife parks and reserves to visit, nature enthusiasts should make a vacation to the Abacos top of their bucket list. Book a flight at www.flyairunlimited.com and experience the wilder side of the Bahamas on your next trip!