What is a charter?
Whether for business or pleasure, the comfort and hassle-free experience of travel in the expert hands of our highly trained pilots is the only way to fly. When you charter an aircraft with AIR UNLIMITED you are purchasing use of the entire airplane for a fully customizable experience, including beverages and catering requests. You will be picked up at your preferred airport and whisked away to a destination airport of your choice. Your flight will commence at your desired times, day, and locations for your ultimate convenience. When you charter our luxurious King Air 200, there are 8 - 9 passenger seats available. You may fill some or all of these seats with your personal guests, however passenger number is ultimately determined by total passenger weight, plus luggage weight.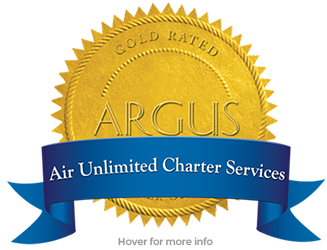 What is an Argus Gold Rating? The third-party, independent ARGUS rating system looks at a charter aircraft operators actual safety and compliance history, and through due diligence produces a grade for that operator. Operators that have a safety history equal to or greater than their peers are provided with an ARGUS Gold Rating. AIR UNLIMITED is proud to have an ARGUS GOLD RATING
How does this differ from by-the-seat service?
Our  Scheduled Service originates exclusively from the designated airports shown on our booking engine. These flights are round trip to/from the following airports: Orlando/Sanford, Marsh Harbour and Treasure Cay. These flights are sold by-the-seat on a first come basis. You conveniently purchase only the number of seats needed.
How does pricing work?
When using our CHARTER SERVICE, you may book one-way or a round trip flight. A one-way flight will simply be picked up and dropped off at your desired location. On a round trip flight, you have the option of having the aircraft and pilot wait for you ... an hour, a day or more.  For a longer stay, you may choose a drop off with pick up a later date. 
When quoting a charter, it is based on an hourly rate from and back to OrlandoSanford International Airport. The rate includes the use of the aircraft, the pilot(s), and fuel for total air time. These costs can vary slightly due to additional wait time, cost of fuel and individual landing fees at the destination airports. For extended stays, the pilot(s) will receive ground fees and per diem, as well as ground fees for the aircraft.
(When a plane must travel back empty to it's original airport, it is known as a deadhead. If a charter company advertises no deadhead hours included, those hours are most likely built into the rate)