The week-long celebration of the traditional Junkanoo Festival is right around the corner – and we are so ready to shake, dance and sing! This is the time of year the unique Bahamian culture is on display for all to see and experience. A long history surrounds the festival and it is the biggest celebration amongst Bahamian locals. Everyone is invited to celebrate, eat and drink, and dance the night away in celebration of the Junkanoo Festival.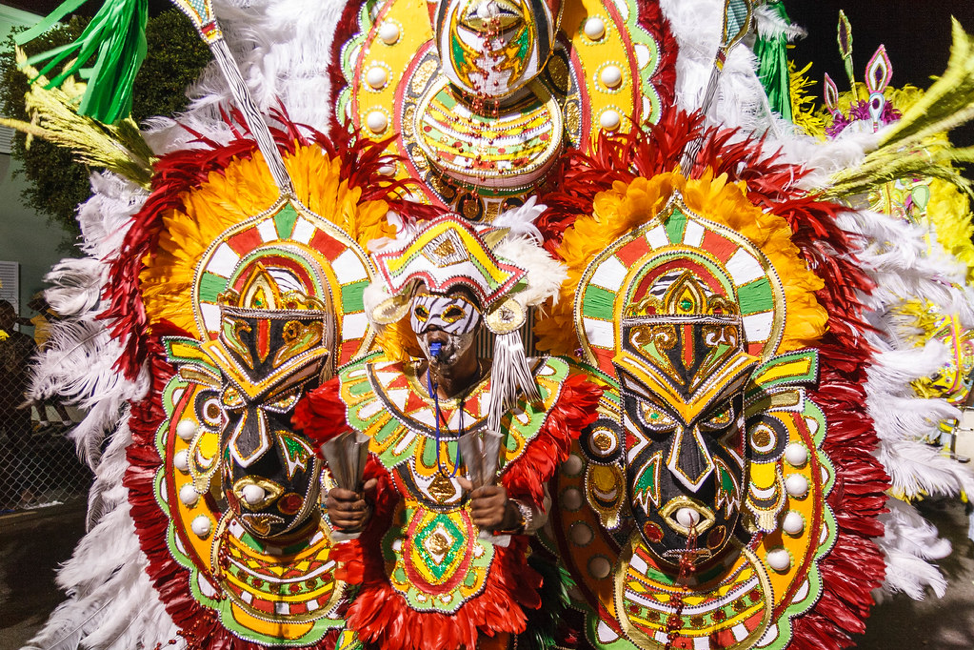 The name "Junkanoo" originates and is a tribute to the legendary African tribal chief, John Canoe. It is a celebration of freedom and traditionally started as a masquerade party during the Christmas season. They used these three days to celebrate by dancing in colorful masks and walking from house to house on stilts. Marking the end of the current year and ensuring a grand and festive new year. The streets are filled with natives covered in colorful costumes, smiling from ear to ear as they stomp and dance to the beat of the drums. If you're looking for a truly authentic Bahamian experience, this is an event you do not want to miss.
The beat of the drums is influenced by West African rhythms and American blues. Incorporating the beat using brass horns, cowbells, whistles and of course – drums. The music is one of the key components of Junkanoo, after all, it's what gets the people dancing! The Goombay drum is a large drum that is strapped over the shoulders and played with bare hands. They were originally created by stretching goatskin over a wooden barrel. The Rake'n'Scrape is a very distinctive Caribbean tune that is produced by bending a handsaw and scraping it with an object such as a nail or butter knife to create a variety of lively sounds.
The expression of Junkanoo is shown off in the costumes. The first set of costumes were masks made from flour paste and colorful crepe paper over the body. The costumes have now evolved to ecstatic works of art made from crepe paper that is carefully glued to fabric, wood or cardboard. The outfits consist of dresses or skirts with a show-stopping headpiece to tie the whole outfit together.
Parading through the streets covered in vivid bright colors and dancing to the beat of the drums is a custom experience unlike any other. Locations such as Nassau, Exuma, and Eleuthera host the biggest Junkanoo festivals all week long. If you can't make it to this year's Junkanoo, plan a trip for the new year to partake in a traditional Bahamian festival. Call Air Unlimited today and schedule your flight for 2020!
Wednesday, 06 November 2019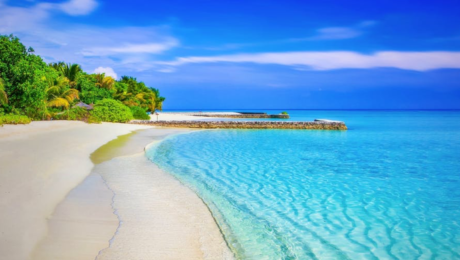 Air Unlimited invites travelers to take a flight to Spanish Wells, a quaint and prosperous island in the Bahamas. This destination welcomes guests in an effort to boost island tourism, which will play a major role in helping the Bahamas recover from Hurricane Dorian's impact.
Largely unaffected by Hurricane Dorian, Spanish Wells is located off the northern tip of Eleuthera Island and is reminiscent of an idyllic Cape Cod fishing village. The houses and cottages are freshly painted with pastel colors and wooden shutters sitting on winding roads. The island is surrounded by swaying coconut-filled palm trees, shallow crystal-clear waters and pink sand. Spanish Wells is sure to become one of your favorite vacation destinations.
Bring out the explorer in you with the expeditions below, which are highly recommended by Air Unlimited for your next trip to Spanish Wells.

Excursions and Things to Do
Whether you want to swim with marine life or eat Johnnycake, Spanish Wells has something for everyone on land and at sea. Stretching from the northeast tip of mainland Eleuthera to Spanish Wells lies a colorful barrier reef called the devil's backbone. Explore an area that has taken out more vessels than any other reef in the country, as at least seven sunken ships now settle atop the sharp coral. Back on land, quaint villages offer fun-filled explorations for anyone. We recommend:
Bruce Pinder is a great leader, having played a key role in Abaco relief efforts, as well as guiding vacationers around Eleuthera on a regular basis! For tourists, his excursion group offers half and full day boat charters for island hopping, trips to visit the amazing swimming pigs, and historical Eleuthera tours.
Lorin and Capt. Cassidy are brothers who offer an experience of the blue depths like no other. From cage dives, wreck dives, snorkeling and group charters, these captains will give you the experience of a lifetime on their 46-foot Chris-Craft boat.
Paulie's Fishing Charters & Adventures
Paulie, a local native with more than 30 years of experience, will take you to swim with the Bahamian pigs, cliff jump, bridge jump, snorkel and more!
The impulsive shopper in you will have everything you ever wanted to take back home to remember the beautiful lifestyle of Spanish Wells.
Places to Eat
Three restaurants serving native Bahamian and American dishes are the local hot spots located in Spanish Wells. Hang out, dance, laugh and eat together alongside the beautiful waters while watching the colorful sunsets. We recommend:
Mediterranean and Bahamian cuisine with a variety of cocktails coming from the fully stocked bar.
Ever had a traditional Johnnycake? Kathy's Bakery serves the island's best for this Bahamian specialty, which is a tasty take on cornmeal pancakes. It also offers an assortment of delicious breads, pies and cakes.
This perfectly colored blue hotspot sits at the entrance of Spanish Wells Harbor, offering fine waterfront dining both inside and outside.
Spanish Wells is full of hidden gems – come as a guest and leave as a friend of this beautiful town for life. Take a flight to Spanish Wells with Air Unlimited and embark on a new adventure!