Indulge in a complete island vacation filled with miles of sandy beaches, quaint colonial towns, and exquisite resorts. The Abaco Islands are an ideal location for the perfect adult-friendly vacation. Our Air Unlimited crew has firsthand experience exploring the islands and has great recommendations for individuals, friends or couples traveling to the Abacos without kids in tow. For the adrenaline seeker, wine and dine couple, or adult looking to relax – do not miss out on the perfect Abacos getaway.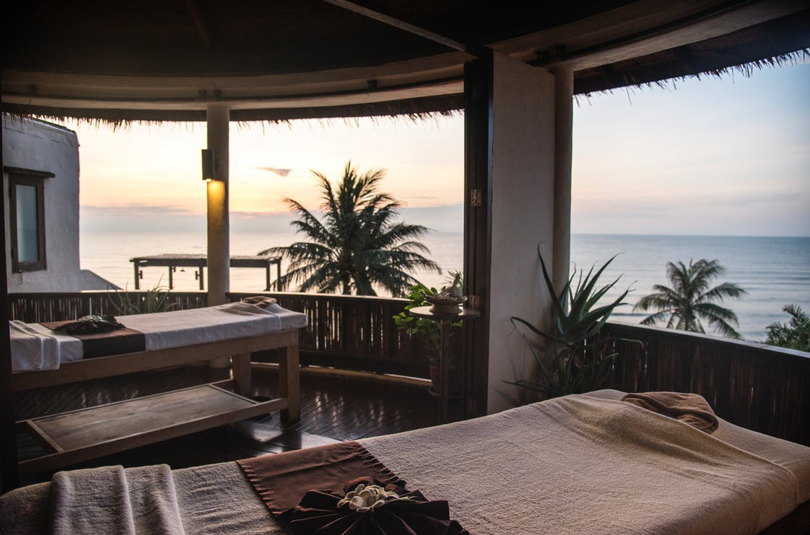 Best Abacos "Watering Holes"
No shoes? No shirt? No problem – bar hopping and dining in the Abacos is the perfect way to enjoy drinks and tasty delights beachside. The restaurants in the Bahamas thrive on laughing faces, sandy feet, live music and sunshine. Don't miss out on the lively experience of a Pina Colada overlooking the clear blue waters.
Our recommended bar destinations include:
Nipper's Beach Bar & Grill in Great Guana Cay

The famous Pig Roast Party is every Sunday afternoon with live music, dancing and sandy white beaches, and frozen cocktails are available every day for a refreshing signature Abaco drink.

Grabbers Bed, Bar and Grille in Great Guana Cay

Known for its famous Grabber cocktails and featuring the most interesting and tasty food on the Cay, this hotspot prepares everything fresh daily for its guests.

Tipsy Seagull Pool Bar in Treasure Cay

A traditional favorite for tourists with an open atmosphere, cool tropical drinks, and dancing to live music 'til the wee hours.
Adventurous Excursions
The beautiful views of the Abacos are something no one wants to miss, and thankfully there are scenic adventures offered by sky, land and water. When it comes to traveling to new places, experiencing your destination from every angle can give you a new perspective and memories that last a lifetime.
For the adventurous side in you, here are some of the best excursions in the Abacos:
Shark Diving with docile Abacos native sharks

Mingle with the reef sharks in crystal clear blue water and explore their underwater stomping grounds.

Day Trips in the outer islands

With surrounding islands and cays – there is much to explore and experience. Rent a boat or ferry to ride the waves and take a dip in between islands.

Golf Cart Blast Tours on Treasure Cay

Experience the natural beauty and scenic views of the cay, while winding and carving your way through the island. With golf courses nearby, a quick game of golf is encouraged.
Romantic Destinations
Spending vacation time with a significant other in a romantic beach destination has romance written all over it. Be fully surrounded by white sandy beaches, crystal waters, aromas of the island and sounds of gentle waves crashing on the shore. There is a romance novel written in the sand with these relaxing moments.
For romantic ideas be sure to check out these top recommendations:
Over the water oasis at Kamalame Cay

Facials, body treatments and massages give the ultimate revitalization and relaxation to any couple staying at the Cay.

Castaway Picnic

Have the day to yourselves under a palm tree on your own private island with a gourmet hamper filled with a delicious lunch and wine.

Wild Pigs at No Name Cay

Relax on the beach with a cute group of friendly pigs swimming in the crystal-clear waters that are fun to feed and picture-ready, so bring your camera!
If you're looking for additional recommendations on local activities to try, visit our destinations page for more insight into each island and where to explore. To get there, Air Unlimited offers affordable, luxury flights for adults traveling to experience an Abacos Getaway. Visit us online  or give us a call at (407) 585-4300.