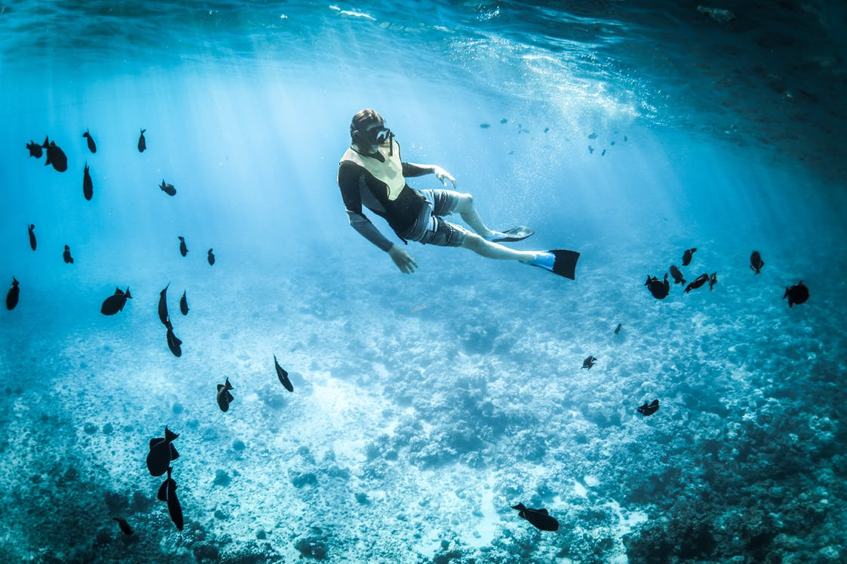 With winter nearly over, it's the perfect time to start planning a warm getaway with Air Unlimited and simultaneously support ecotourism in North Eleuthera! This beautiful island destination offers the ideal escape, giving visitors the chance to be one with nature and enjoy the environment, while leaving it as undisturbed as they found it. In addition to sunbathing on a beach and enjoying the delicious cuisine, tourists also have many eco-friendly, adventurous options to fully immerse themselves in the island life.
Ripley Head Cliff
Just a short boat ride away from Eleuthera, Ripley Head Cliff is found in Spanish Wells – perfect for visitors looking to explore the uniqueness of these Bahamian islands. To truly appreciate the landscape, many travelers jump off the cliff or rope swing into the clear blue water. Also nearby, Spanish Wells Fishing is one of the many places in the Bahamas that offers the unique experience of swimming with the pigs.
Bahamas Ocean Safaris
Visitors can easily travel to the Bahamas Ocean Safaris while at Ripley Head Cliff – just a quick 13-minute walk west of the cliff. Travelers can participate in many adventurous outdoor activities at Bahamas Ocean Safaris, such as snorkeling and scuba diving. Bahamas Ocean Safaris allow visitors to explore the coral reefs and observe marine life in their natural habitat with guided tours and customized itineraries.
Sapphire Blue Hole
On the main island of Eleuthera, the Sapphire Blue Hole is a hidden gem camouflaged behind lush trees and wildlife. Much like its name alludes to, Sapphire Blue Hole is a rich blue body of water that offers family-friendly fun. Travelers will be able to jump into the water, swim and soak in all the beauty nature has to offer. Sapphire Blue Hole is located a quick 13-minute drive away from the North Eleuthera airport.
Preacher's Cave
A 15-minute walk east of Sapphire Blue Hole on the main island of Eleuthera, visitors can also explore Preacher's Cave. The cave was discovered in the 1600s by Captain William Sayles. Unique in its history and charm, Preacher's Cave gives travelers a better understanding of North Eleuthera's story.
There are many natural treasures that these Bahamian islands have to offer through ecotourism in North Eleuthera. Book a direct flight to this tropical paradise with Air Unlimited for the perfect post-winter getaway starting mid-March.