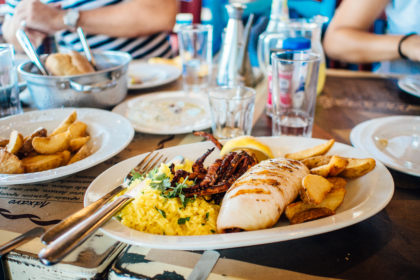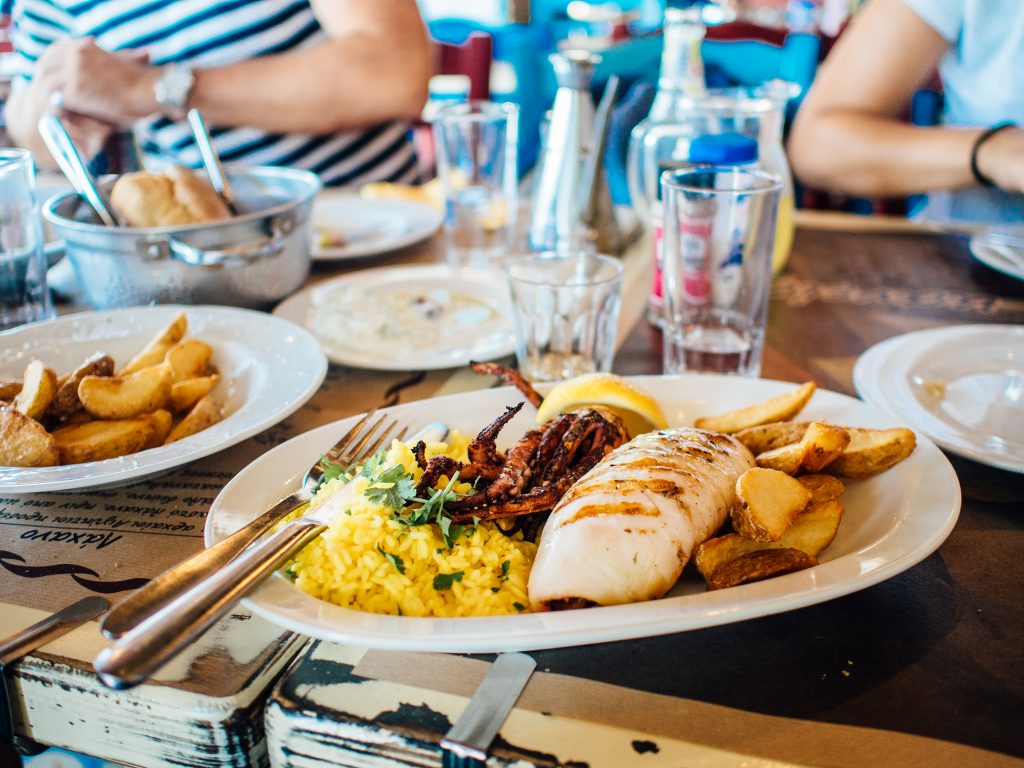 After taking a flight to Marsh Harbor, you will find freshly caught local seafood paired with stunning ocean views and friendly service. Whether you're looking for a casual spot to grab burgers after an afternoon of snorkeling or an exquisitely prepared lobster dinner, there are plenty of options to satisfy your vacation cravings.
If you're taking one of Air Unlimited's affordable scheduled service flights to Marsh Harbor, you won't be disappointed with the local fare that the island's top chefs are serving up. Here are three of our favorite spots to dine at.
Does your flight to Marsh Harbor land in the morning? Located inside Abaco Beach Resort on Bay Street, Angler's is known for their spot-on breakfast choices. Indulge in the Lobster Eggs Benedict, featuring fresh Bahamian spiny lobster, or order a stack of Banana and Peanut Butter Pancakes with a side of crisp apple smoked bacon. For a traditional Bahamian breakfast, try the Stew Fish or Chicken Souse with a side of Johnny Cakes and grits.
Headed by the award-winning Caribbean cuisine expert Chef Charles Smith, their exceptional menu of island fare offers entrees such as Bahamian Cracked Conch for dinner and an Island Quesadilla stuffed with chicken, lobster or shrimp for lunch. The resort offers marina access, making Angler's an ideal place for boaters to dock and grab a quick bite for breakfast, lunch or dinner.
Located on the water, Snappas Grill & Chill is a laidback local watering hole with a friendly staff where visitors can grab a quick lunch after an afternoon of shopping or boating. Boaters frequently tie up at the marina before enjoying an appetizer and a cold local beer or fruity frozen drink.
Easy yet delicious menu fare to enjoy while overlooking the marina includes Blackened Fish Sandwiches, Black Angus Burgers or Grilled Chicken Caesar Salads. There's also a stage where patrons can enjoy live music once the sun goes down.
Looking for a late night bite? Snappas switches over their menu from 9:30 until midnight on Fridays and Saturdays. Choose from options like mozzarella sticks, chicken wings, conch fritters, burgers and hotdogs.
Any patron will tell you that Curly Tails Restaurant & Bar's Conch Fritters are the best on the island. Caught fresh daily, we'd tell you to split an order with your table, but you might not want to share once you try your first bite.
Located at The Conch Inn Hotel & Marina, their menu touts fresh local seafood with Asian and Mediterranean influences. If you're heading there for dinner, we recommend starting with the Coconut Cilantro Steamed Mussels, which are steamed in island coconut broth with local spices. For an entrée, try the Sweet Plantain Crusted Grouper Fillet served with a tropical papaya salsa.
After your meal, grab a drink on the rooftop bar and relax while listening to live Bahamian music and puffing on a Cuban cigar. You won't be disappointed – this spot offers unparalleled harbor views and is also the perfect way to take in a gorgeous Marsh Harbor sunset.
Air Unlimited offers affordable scheduled service flights to the Abaco Islands in the Bahamas. If you're looking for additional recommendations on local restaurants to try, our team would be more than glad to help you put your itinerary together. Give us a call at (407) 585-4300.